SISTEM PENDUKUNG KEPUTUSAN PEMILIHAN SITUS LOWONGAN KERJA MENGGUNAKAN METODE MOORA
Fajriyah Mayzura Agustin

Politeknik Negeri Malang

Indra Dharma Wijaya

Politeknik Negeri Malang

Budi Harijanto

Politeknik Negeri Malang
Abstract
Indonesia is the 10th country with the most duration of social media use according to (DataIndonesia.id, 2022), using social media can find many useful things such as online advertising which can be a more effective means of finding work. However, there is also a negative impact on job seekers, this is evidenced by the fact that there are still many who experience fraudulent job vacancies on unofficial platforms, so information and security are not guaranteed. This makes it difficult for job seekers to choose a trusted job vacancy board. Based on these problems, a Decision Support System is needed that can help determine the official platform for finding job vacancies for job seekers. In his research (Kurnianty, Ekojono, & Rohadi, 2023) regarding decision support using the MOORA method it produces an accuracy of 100%, where the use of the MOORA method has a good level of selectivity so it can be used in this study. The method used is the Multi-Objective Optimization On The Basis Of Ratio Analysis (MOORA) method because there are several conflicting criteria needed. The results obtained using this method are the appropriate results. Test results by comparing manual calculations with the system using the Confusion Matrix get an accuracy of 100%, then testing the respondents gets the final result of an average satisfaction of 89.28%, it can be concluded that this system can meet the needs and can help job seekers in choose a job vacancy site.
Downloads
Download data is not yet available.
References
Bhavani, B., A.Deeksha, Ch.Soujanya, & Sree, G. (2022, Oktober). A COMPARATIVE STUDY ON FAKE JOB POST PREDICTION. International Journal of Engineering and Techniques - Volume 8 Issue 5, 387-392. Retrieved from http://www.ijetjournal.org
Chaffey, D., & Ellis-Chadwick, F. (2018). Digital Marketing, Strategy, Implementation and Practice. Retrieved from https://books.google.co.id/books?id=-1yGDwAAQBAJ&lpg=PP1&hl=id&pg=PT3#v=onepage&q&f=false
DataIndonesia.id. (2022). 10 Negara dengan Durasi Penggunaan Media Sosial per Hari Tertinggi. DataIndonesia.id, https://dataindonesia.id/internet/detail/daftar-negara-terbanyak-habiskan-waktu-di-medsos-ada-indonesia.
Detik.com. (2022). 3 Kasus Kejahatan Berkedok Lowongan Kerja di Jabar. Bandung: Detik.com.
Dinas Tenaga Kerja dan Transmigrasi. (2020). Situs Lowongan Kerja Resmi dan Terpercaya di Indonesia. Dinas Tenaga Kerja dan Transmigrasi. NTB: Dinas Tenaga Kerja dan Transmigrasi. Retrieved from https://disnakertrans.ntbprov.go.id/6-situs-lowongan-kerja-terpercaya-dan-resmi-di-indonesia/
Hardiyanto, W. S., & Budihartanti, C. (2020, Juli). PENERAPAN METODE MOORA DALAM PENGAMBILAN KEPUTUSAN PEMILIHAN VENDOR BUKU TAHUNAN SEKOLAH SMA NEGERI 1 CISARUA. JISICOM (Journal of Information System, Informatics and Computing), 239-249. Diambil kembali dari http://journal.stmikjayakarta.ac.id/index.php/jisicom
Irawan, D., & Abadan, B. F. (2019). SISTEM PENDUKUNG KEPUTUSAN UNTUK PEMBELIAN HANDPHONE MENGGUNAKAN METODE SAW (SIMPLE ADDITIVE WEIGHTING) STUDI KASUS PADANG CELL LUBUKLINGGAU. Jurnal Sistem Informasi Musirawas , 45-54. doi:https://doi.org/10.32767/jusim.v4i1.429
Kurnianty, A., Ekojono, & Rohadi, E. (2023). Situs Pendukung Keputusan Tempat Pembelian Album KPOP Menggunakan MOORA. JIP (Jurnal Informatika Polinema), Volume 9, Edisi 2, 153-158.
R, M. A., & Haliq. (2021, April). Implementasi Metode Multi Objective Optimization On The Basis Of Ratio Analysis (MOORA) Untuk Penentuan Agen 46 BNI Cabang Pembantu Tulang Bawang. Jurnal SISFOKOM (Sistem Informasi dan Komputer), Volume 10, Nomor 01, 120-125. doi:10.32736/sisfokom.v10i1.1073
Suhartono, C., & Richard, A. (2018, Oktober). Peran Media Sosial Dalam Strategi Komunikasi Pemasaran Di Sebuah Perguruan Tinggi Swasta Di Jakarta Barat. Jurnal Muara Ilmu Komunikasi dan Bisnis Vol.2, No. 2, Oktober 2018., 521-527.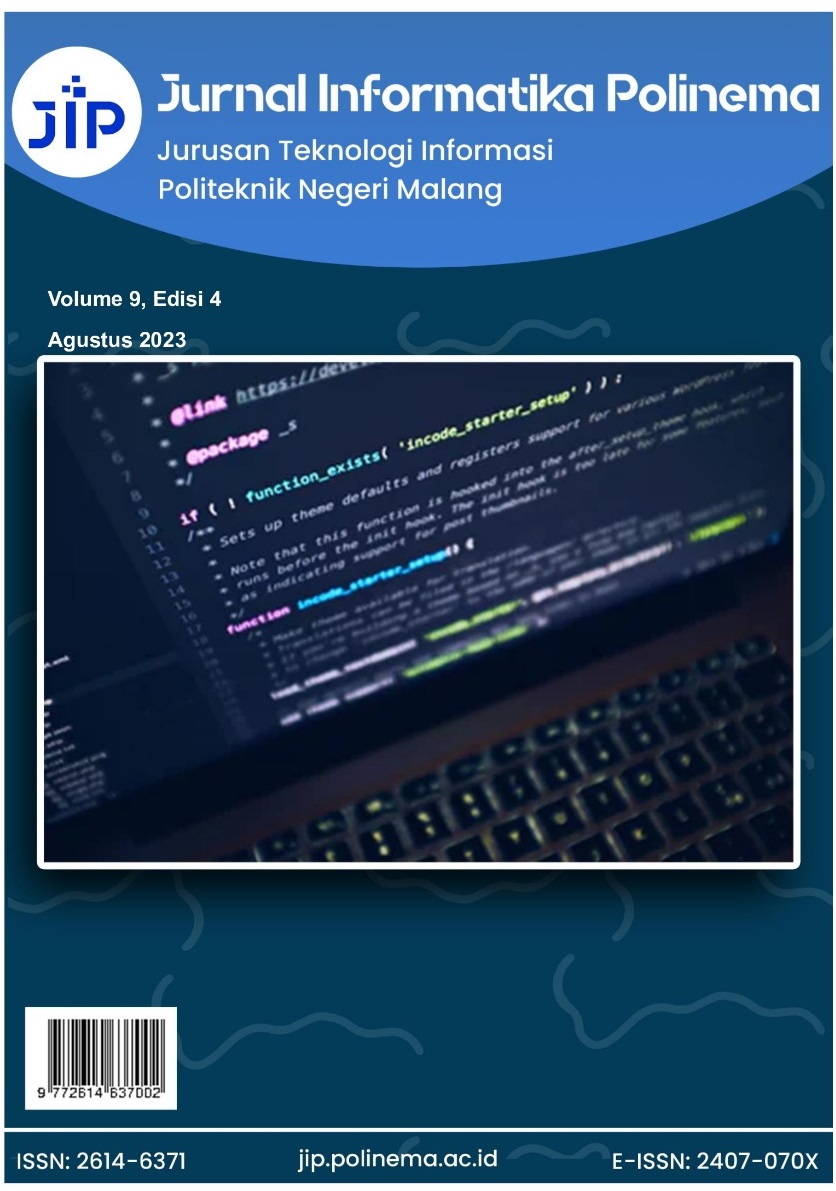 How to Cite
Fajriyah Mayzura Agustin, Wijaya, I. D., & Harijanto, B. (2023). SISTEM PENDUKUNG KEPUTUSAN PEMILIHAN SITUS LOWONGAN KERJA MENGGUNAKAN METODE MOORA. Jurnal Informatika Polinema, 9(4), 487-492. https://doi.org/10.33795/jip.v9i4.1422
Copyright (c) 2023 Fajriyah Mayzura Agustin, Indra Dharma Wijaya, Budi Harijanto
This work is licensed under a Creative Commons Attribution-NonCommercial 4.0 International License.
Copyright for articles published in this journal is retained by the authors, with first publication rights granted to the journal. By virtue of their appearance in this open access journal, articles are free to use after initial publication under the International Creative Commons Attribution-NonCommercial 4.0 Creative Commons CC_BY_NC.