GABUNGAN ADVANCED ENCRYPTION STANDARD DAN VIGENERE CIPHER UNTUK PENGAMANAN DOKUMEN DIGITAL
Eko Hari Rachmawanto

Departemen Teknik Informatika, Fakultas Ilmu Komputer, Universitas Dian Nuswantoro, Semarang

Christy Atika Sari

Universitas Dian Nuswantoro

https://orcid.org/0000-0002-7296-5210
Abstract
Penggunaannya yang kian massif dan banyakya data dan informasi yang tersebar di internet yang mungkin saja terdapat data yang bersifat rahasia, menjadikan data tersebut rawan untuk disalahgunakan dari tindakan illegal oleh pihak yang tidak bertanggung jawab. Faktor keamanan menjadi hal yang sangat penting agar data tersebut tetap aman dan terjamin keasliannya. Maka dibutuhkan metode agar data tetap aman dan asli. Kriptografi adalah metode untuk mengamankan data digital dengan cara mengubah dan mengacak data asli (plainteks) menjadi bentuk yang tidak dikenali (cipherteks). Maka dari itu dipilihlah menggunakan kombinasi algoritma vigenere dan AES dalam mengamankan data agar tetap asli. Vigenere digunakan sebagai pembangkit kunci karena aman, cepat dan tidak banyak menghabiskan sumber daya, menghasilkan ciphertext yang bervariasi. AES dipilih sebagai algoritma yang akan mengenkripsi file dokumen karena menggunakan sistem cycle atau putaran, yang bervariasi terhadap panjang kunci. Sehingga ketika variasi panjang kunci yang berbeda, AES akan mengenkripsi file dokumen dengan jumlah putaran yang disesuaikan. Dengan adanya program kombinasi algoritma Vigenere dan AES ini diharapkan dapat membantu dalam menyembunyikan dan mengamankan data agar data tetap terjamin keasliannya. Berdasarkan hasil eksperimen pada proses enkripsi dan dekripsi, dihasilkan nilai Avalanche effect yang cukup baik. Nilai Aevalache Effect diperngaruhi oleh pajnag kunci yang digunakan. Pada Analisa kebutuhan waktu enkripsi dekripsi, diketahui bahwa proses dekripsi pesan membutuhkan waktu yang lebih lama disbanding proses enkripsi.
Downloads
Download data is not yet available.
References
Ajmera, A., Ghosh, S. S. and Vijayetha, T. (2018) 'Secure LSB Steganography over Modified Vigenère-AES Cipher and Modified Interrupt Key-AES Cipher', in 2018 IEEE Punecon. IEEE, pp. 1–7. doi: 10.1109/PUNECON.2018.8745393.
Ali, S. M. A. and Hasan, H. F. (2019) 'Novel encryption algorithm for securing sensitive information based on feistel cipher', Test Engineering and Management, 2019(November), pp. 10–16.
Isfahani, F. Al and Nugraha, F. (2019) 'Implementasi Steganografi LSB dengan Enkripsi Base64 Pada Citra dengan Ruang Warna CMYK', ScientiCO : Computer Science and Informatics Journal, pp. 1–8. doi: 10.22487/j26204118.2018.v1.i2.11221.
Lapid, B. and Wool, A. (2019) 'Cache-Attacks on the ARM TrustZone Implementations of AES-256 and AES-256-GCM via GPU-Based Analysis', in Lecture Notes in Computer Science (including subseries Lecture Notes in Artificial Intelligence and Lecture Notes in Bioinformatics). Springer International Publishing, pp. 235–256. doi: 10.1007/978-3-030-10970-7_11.
Mathur, R., Pathak, V. and Bandil, D. (2019) Emerging Trends in Expert Applications and Security, Emerging Trends in Expert Applications and Security. Edited by V. S. Rathore et al. Singapore: Springer Singapore (Advances in Intelligent Systems and Computing). doi: 10.1007/978-981-13-2285-3.
Nasution, S. D. et al. (2017) 'Data Security Using Vigenere Cipher and Goldbach Codes Algorithm', International Journal of Engineering Research & Technology (IJERT), 6(01), pp. 360–363.
Nilesh, D. and Nagle, M. (2014) 'The new cryptography algorithm with high throughput', in 2014 International Conference on Computer Communication and Informatics. IEEE, pp. 1–5. doi: 10.1109/ICCCI.2014.6921739.
Sangeeta and Kaur, E. A. (2017) 'A Review on Symmetric Key Cryptography Algorithms', International Journal of Advanced Research in Computer Science, 8(4), pp. 358–362.
Sari, W. S. et al. (2017) 'A Good Performance OTP Encryption Image based on DCT-DWT Steganography', TELKOMNIKA, 15(4), pp. 1987–1995. doi: 10.12928/TELKOMNIKA.v15i4.5883.
Sharma, N., Prabhjot and Kaur, H. (2017) 'A Review of Information Security using Cryptography Technique.', International Journal of Advanced Research in Computer Science, 8(4), pp. 323–326. Available at: http://web.a.ebscohost.com/ehost/detail/detail?vid=0&sid=852854fe-f74a-47d8-b2c5-36c892e545ea%40sessionmgr4006&bdata=Jmxhbmc9ZXMmc2l0ZT1laG9zdC1saXZl#AN=123430611&db=aci.
Subandi, A. et al. (2018) 'Vigenere cipher algorithm modification by adopting RC6 key expansion and double encryption process', IOP Conference Series: Materials Science and Engineering, 420(1), p. 012119. doi: 10.1088/1757-899X/420/1/012119.
Susanto, A. et al. (2019) 'Dual Security Method for Digital Image using HBV Encryption and Least Significant Bit Steganography', in Journal of Physics: Conference Series. doi: 10.1088/1742-6596/1201/1/012024.
TOUIL, H., AKKAD, N. EL and SATORI, K. (2020) 'Text Encryption: Hybrid cryptographic method using Vigenere and Hill Ciphers', in 2020 International Conference on Intelligent Systems and Computer Vision (ISCV). IEEE, pp. 1–6. doi: 10.1109/ISCV49265.2020.9204095.
Triandi, B. et al. (2018) 'Improve Security Algorithm Cryptography Vigenere Cipher Using Chaos Functions', in 2018 6th International Conference on Cyber and IT Service Management (CITSM). IEEE, pp. 1–5. doi: 10.1109/CITSM.2018.8674376.
Vittal Kumar Mittal | Manish Mukhija (2019) 'Cryptosystem Based on Modified Vigenere Cipher using Encryption Technique', International Journal of Trend in Scientific Research and Development (IJTSRD) International Journal of Trend in Scientific Research and Development, 3(5), pp. 1936–1939. doi: https://doi.org/10.31142/ijtsrd27878.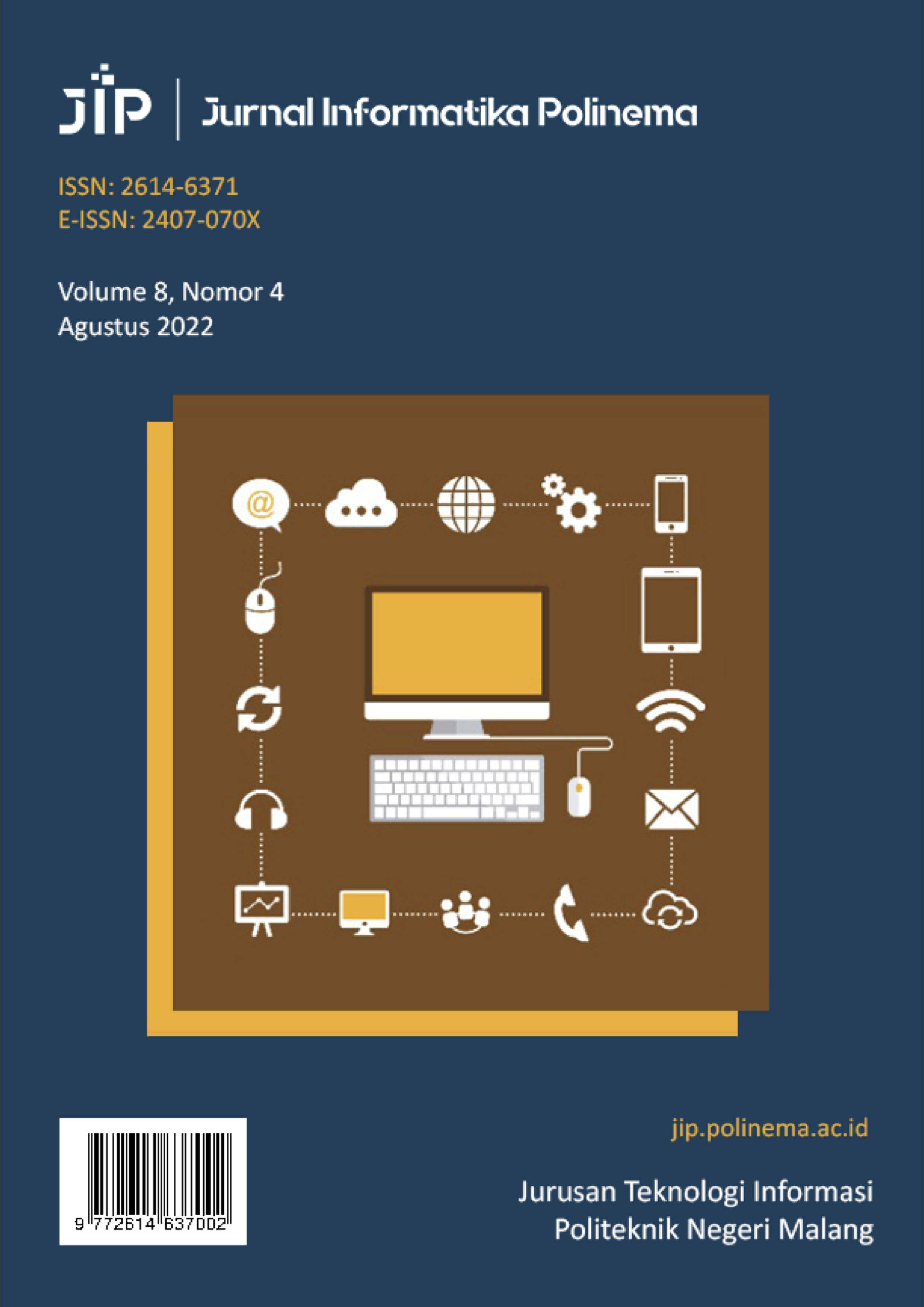 How to Cite
[1]
E. Rachmawanto and C. A. Sari, "GABUNGAN ADVANCED ENCRYPTION STANDARD DAN VIGENERE CIPHER UNTUK PENGAMANAN DOKUMEN DIGITAL", JIP, vol. 8, no. 4, pp. 1-8, Aug. 2022.
Copyright (c) 2022 Eko Hari Rachmawanto, Christy Atika Sari
This work is licensed under a Creative Commons Attribution-NonCommercial 4.0 International License.
Copyright for articles published in this journal is retained by the authors, with first publication rights granted to the journal. By virtue of their appearance in this open access journal, articles are free to use after initial publication under the International Creative Commons Attribution-NonCommercial 4.0 Creative Commons CC_BY_NC.