Analisis Website Petani Kode Menggunakan SUS (System Usabilty Scale)
Keywords:
System Usability Scale(SUS), Usability, Website
Abstract
In today's modern era media for learning are widely spread in the digital world such as the internet, there are many websites that provide facilities to learn many things, one of them is programming language. Petani Kode website is one of the websites that can be used to learn things. To measure the usability level of this website, a test was carried out using the SUS questionnaire containing 10 statements. Then the data collected will be calculated using several rules in calculating the SUS score, after calculating the average SUS score of all respondents to be compared using the adjective table. In this study, 30 respondents were obtained. people were then selected again based on the type of work of the respondents, into 20 respondents who came from among students. from the 20 respondents, an SUS score of 72.25 was obtained, and according to the adjective rating system the score was in the OK category with grade scale C and the level of acceptance was ACCEPTABLE.
Downloads
Download data is not yet available.
References
Anggito, A. dan J. S. (2018). Metodologi penelitian kualitatif - Albi Anggito, Johan Setiawan - Google Buku. In CV Jejak.
Bhardwaj, P. (2019). Types of sampling in research. Journal of the Practice of Cardiovascular Sciences, 5(3). https://doi.org/10.4103/jpcs.jpcs_62_19
Dalle Juhriansyah, mutalib abdul ariffin abdul mutalib, shaaria nassiriah, & salam abdul nur sobhiatun. (2019). Buku_Pengantar Interaksi Manusia dan Komputer.
Elma, Z. (2020). Implementasi Metode Usability Testing Dengan System Usability Scale Dalam Evaluasi Website Layanan Penyedia Subtitle (Studi Kasus: Subscene). Ultima InfoSys : Jurnal Ilmu Sistem Informasi, 10(2). https://doi.org/10.31937/si.v10i2.1197
Herlina, V. (2019). Panduan Praktis Mengolah Data Kuesioner Menggunakan SPSS. In PT Elex Media Komputindo.
Irma Purnamasari, A., & Setiawan, A. (2019). Evaluasi Usability Pada Aplikasi Pembelajaran Tari Menggunakan System Usability Scale (SUS). Jurnal ICT : Information Communication & Technology, 20, 70–75.
Nurhayati, S., & Ristanto, V. G. (2017). Sistem Informasi Pariwisata Provinsi Papua Berbasis Web. Seminar Nasional APTIKOM (SEMNASTIKOM), 3(1).
Prabowo, M., & Suprapto, A. (2021). Usability Testing pada Sistem Informasi Akademik IAIN Salatiga Mengunakan Metode System Usability Scale. JISKA (Jurnal Informatika Sunan Kalijaga), 6(1). https://doi.org/10.14421/jiska.2021.61-05
Rahman, M. M. (2018). Implementation of Responsive Online Food Ordering Application with Social Media Integration. https://doi.org/10.13140/RG.2.2.32716.36486
Rasmila. (2018). Evaluasi Website Dengan Menggunakan System Usability Scale (SUS) Pada. www.binadarma.ac.id.
salamah i. (2019). EVALUASI USABILITY WEBSITE POLSRI DENGAN MENGGUNAKAN SYSTEM USABILITY SCALE. 8.
Sharfina, Z., & Santoso, H. B. (2017). An Indonesian adaptation of the System Usability Scale (SUS). 2016 International Conference on Advanced Computer Science and Information Systems, ICACSIS 2016. https://doi.org/10.1109/ICACSIS.2016.7872776
Sidik, A. (2018). Penggunaan System Usability Scale (SUS) Sebagai Evaluasi Website Berita Mobile. Technologia: Jurnal Ilmiah, 9(2). https://doi.org/10.31602/tji.v9i2.1371
Soejono, A. W., Setyanto, A., Sofyan, A. F., & Anova, W. (2018). Evaluasi Usability Website UNRIYO Menggunakan S ystem Usability Scale ( Studi Kasus : Website UNRIYO ). XIII.
Susanto, R., & Andriana, A. D. (2016). PERBANDINGAN MODEL WATERFALL DAN PROTOTYPING UNTUK PENGEMBANGAN SISTEM INFORMASI. Majalah Ilmiah UNIKOM, 14(1). https://doi.org/10.34010/miu.v14i1.174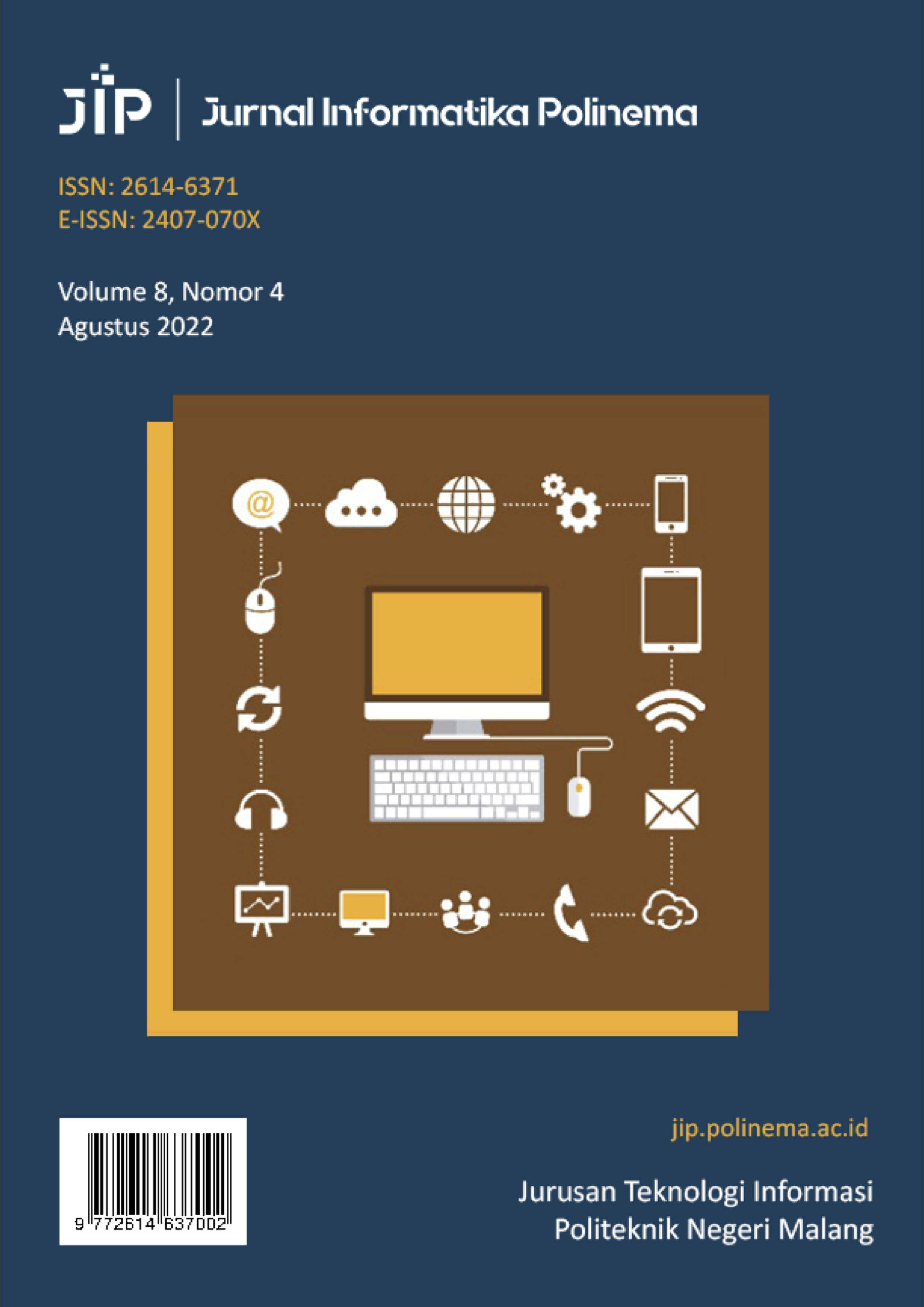 How to Cite
Kusumadya, M., Rasmila, R., Hidayat, F., & Chandra, D. (2022). Analisis Website Petani Kode Menggunakan SUS (System Usabilty Scale). Jurnal Informatika Polinema, 8(4), 41-46. https://doi.org/10.33795/jip.v8i4.908
Copyright (c) 2022 M.Agil Kusumadya, Rasmila Rasmila, Faiz Hidayat, Dicky Chandra
This work is licensed under a Creative Commons Attribution-NonCommercial 4.0 International License.
Copyright for articles published in this journal is retained by the authors, with first publication rights granted to the journal. By virtue of their appearance in this open access journal, articles are free to use after initial publication under the International Creative Commons Attribution-NonCommercial 4.0 Creative Commons CC_BY_NC.