PEMANFAATAN BOT TELEGRAM SEBAGAI E-LEARNING UJIAN BERBASIS FILE
Heri Khariono

Rizky Parlika

Haidar Ananta Kusuma

Dimas Arif Setyawan
Abstract
E-learning is an educational system that implements electronic applications that support the improvement of education and learning exercises using internet media. With e-learning, it is hoped that the teaching and learning process will be easier than the face-to-face learning system. This program is created using the telegram application, google apps script and google spreadsheet. Telegram is a cloud-based instant messaging application. Telegram has special features from other applications, namely the robot or bot feature. This feature allows the user to program with various commands. By using a telegram bot we can run a series of instructions that we want by sending a message or a certain command line. This means that these instructions can be executed in accordance with the code programmed by the user. In this case, we created a file-based exam e-learning information system using a telegram bot as an e-learning medium. Where the bot is, lecturers and students can run exams at a more cost effective and of course effective and efficient. In this program, lecturers can make exam questions and give grades to students, while students can access e-learning to take exams by sending test answers in the form of files. User access to exams and test data in the form of files sent through the bot will be stored via google spreadsheet. The achievement in making this e-learning is to make the file-based exam process easier by using the Telegram application.
Downloads
Download data is not yet available.
References
Fahana, J. F., & Ridho, F. (2018). Pemanfaatan Telegram Sebagai Notifikasi Serangan untuk Keperluan Forensik Jaringan. JOM FISIP, 5, 1–11.
Fitriansyah, F., & Aryadillah. (2020). Penggunaan Telegram Sebagai Media Komunikasi Dalam Pembelajaran Online. Cakrawala-Jurnal Humaniora, 20, 111–117.
Gunawan, L. N., Anjarwirawan, J., & Handojo, A. (2018). Aplikasi Bot Telegram Untuk Media Informasi Perkuliahan Program Studi Informatika-Sistem Informasi Bisnis Universitas Kristen Petra. Jurnal INFRA, 6, 1–6.
Handayani, I., Kusumahati, H., & Badriah, A. N. (2017). Pemanfaatan Google Spreadsheet Sebagai Media Pembuatan Dashboard pada Official Site iFacility di Perguruan Tinggi. Jurnal Ilmiah SISFOTENIKA, 7, 177–186.
Lenardo, G. C., Herianto, & Irawan, Y. (2020). Pemanfaatan Bot Telegram Sebagai Media Informasi Akademik di STMIK Hang Tuah Pekanbaru. JTIM : Jurnal Teknologi Informasi Dan Multimedia, 1, 351–357.
Muhaimin, A., Gunawan, S. I., Muhardi, & Devis, Y. (2021). PENERAPAN LMS (LEARNING MANAGEMENT SYSTEM) BERBASIS WEB DI SMA NEGERI 1 KAMPAR KIRI HILIR. Riau Journal of Computer Science, 7, 32–40.
Muhammad, R., Arwani, I., & Rahayudi, B. (2020). Implementasi Plugin Notifikasi Sebagai Media Integrasi Antara E-Learning Moodle dengan BOT Telegram (Studi Kasus : Bimbingan Belajar The Second School). Jurnal Pengembangan Teknologi Informasi Dan Ilmu Komputer, 4.
Mulyanto, A. D. (2020). Pemanfaatan Bot Telegram Untuk Media Informasi Penelitian. Jurnal Ilmu Komputer Dan Teknologi Informasi, 12, 49–54. https://doi.org/10.18860/mat.v12i1.8847
Nafis, M. (2018). IMPLEMANTASI GOOGLE SPREADSHEETS DAN FACEBOOK PIXEL PADA WEBSITE PENJUALAN PRODUK LOKAL. Prosiding SINTAK, 560–566.
Nufusula, R., & Susanto, A. (2018). Rancang Bangun Chat Bot Pada Server Pulsa Mengunakan Telegram Bot API. Jurnal of Information System, 80–88. https://doi.org/10.33633/joins.v3i1.1884
Qamar, K., & Riyadi, S. (2018). EFEKTIVITAS BLENDED LEARNING MENGGUNAKAN APLIKASI TELEGRAM. Jurnal Ilmu Tarbiyah "At-Tajdid," 7, 1–15.
Risanty, R. D., & Sopiyan, A. (2017). PEMBUATAN APLIKASI KUESIONER EVALUASI BELAJAR MENGAJAR MENGGUNAKAN BOT TELEGRAM PADA FAKULTAS TEKNIK UNIVERSITAS MUHAMMADIYAH JAKARTA (FT-UMJ) DENGAN METODE POLLING. Seminar Nasional Sains Dan Teknologi 2017 Fakultas Teknik Universitas Muhammadiyah Jakarta, 1–9.
Soeroso, H., Arfianto, A. Z., & Mayangsari, N. E. (2017). Penggunaan Bot Telegram Sebagai Announcement System pada Intansi Pendidikan. Seminar MASTER PPNS, 2, 45–48.
Suharyanto, & Mailangkay, A. b. l. (2016). PENERAPAN E-LEARNING SEBAGAI ALAT BANTU MENGAJAR DALAM DUNIA PENDIDIKAN. Jurnal Ilmiah Widya, 3, 17–21.
Yuliyanto, H., Wahyuni, T., & Seputra, Y. E. A. (2016). UJIAN ON LINE DALAM E-LEARNING: PERBANDINGAN UJIAN ONLINE (COMPUTER BASED) TERHADAP UJIAN TRADISIONAL (PAPER BASED). Jurnal Vokasi Indonesia, 4, 93–104.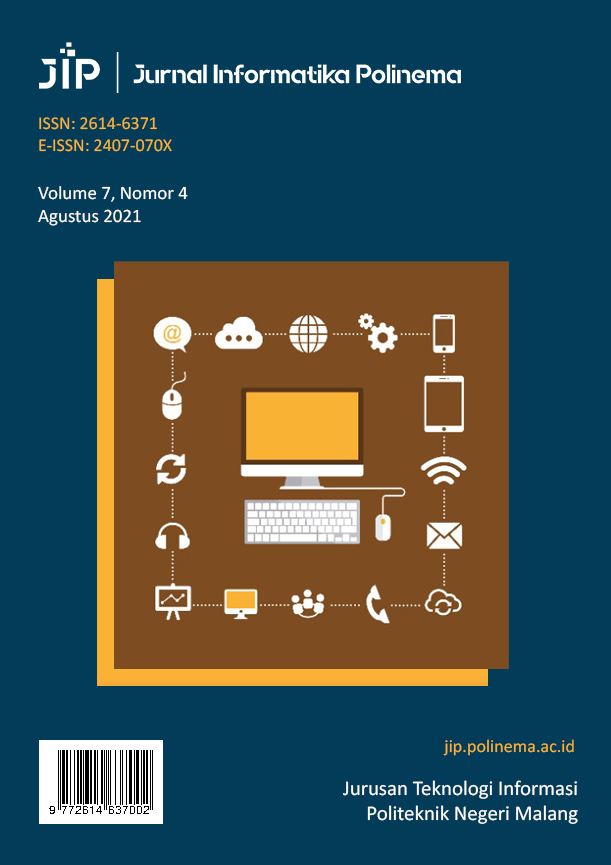 How to Cite
[1]
Heri Khariono, Rizky Parlika, Haidar Ananta Kusuma, and Dimas Arif Setyawan, "PEMANFAATAN BOT TELEGRAM SEBAGAI E-LEARNING UJIAN BERBASIS FILE", JIP, vol. 7, no. 4, pp. 65-72, Aug. 2021.
Copyright (c) 2021 Rizky Parlika, Heri Khariono, Haidar Ananta Kusuma, Dimas Arif Setyawan
This work is licensed under a Creative Commons Attribution-NonCommercial 4.0 International License.
Copyright for articles published in this journal is retained by the authors, with first publication rights granted to the journal. By virtue of their appearance in this open access journal, articles are free to use after initial publication under the International Creative Commons Attribution-NonCommercial 4.0 Creative Commons CC_BY_NC.