Pneumonia Identifikasi Pneumonia Pada Citra Rontgen Paru Menggunakan Metode Power-Law Trans
Indonesia
Kadek Batubulan

Politeknik Negeri Malang

Ridwan Rismanto

Politeknik Negeri Malang
Keywords:
Power-law Trans, Pneumonia, Gabor Wavelet dan Boundary.
Abstract
This paper proposes a system for pneumonia disease classification using X-rays images. This research explores various steps of image processing namely Power-Law Trans, Gabor Wavelet and Boundary. The main aim of this step is to identify infiltrate of human lungs X-Ray images and quantify the infiltration. The result indicates the classification of pneumonia disease into normal, mild pneumonia, and chronic pneumonia.
Downloads
Download data is not yet available.
References
[1] Fransiska. 2000. "Pneumonia". Fakultas Kedokteran Wijaya Kusuma, Surabaya.
[2] Perhimpunan Dokter Paru Indonesia. "Pneumonia Nosokomial". 2003.
[3] Yuwono Bambang. 2011. Image Smoothing Menggunakan Mean Filtering, Median Filtering, Modus Filtering Dan Gaussian Filtering". Jurusan Teknik Informatika UPN "Veteran", Yogyakarta.
[4] Liu Vincent, Mark P Clark, Mark Mendoza, Ramin Saket, Marla N Gardner, Benjamin J Turk and Gabriel J Escobar. 2013. "Automated Identification Of Pneumonia In Chest Radiograph Reports In Critically Ill Patients". BMC Medical Informatics and Decision Making.
[5] Ya-Lin Song, Yang Yang. 2010. "Localization Algorithm and Implementation for Focal of Pulmonary Tuberculosis Chest Image". Computing Center ,Henan University Kaifeng,P.R.China.
[6] Kumar Deepak, A G Ramakrishnan. 2013. "Power-law Transformation for Enhanced Recognition of Born-Digital Word Images". Medical Intelligence and Language Engineering Laboratory Department of Electrical Engineering Indian Institute of Science Bangalore, India.
[7] Data Rekam Pasien RSSA. "Citra Rontgen Mengandung Penyakit Pneumonia". Malang, 2014.
[8] Rahmadwati 2012. "Gabor Wavelet". University Brawijaya, Indonesia.
[9] Samir Kumar Bandyopadhyay. 2012. "A Method for Lung Boundary Detection". University of Calcutta, 92 A.P.C. Road, Kolkata – 700009, India.
[10] Perhimpunan Dokter Paru Indonesia. "PNEUMONIA KOMUNITI". 2004.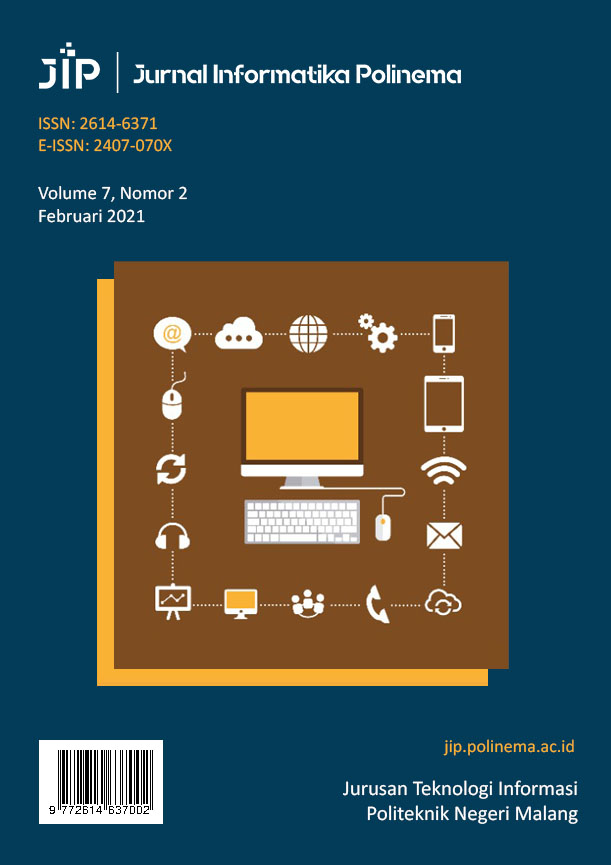 How to Cite
[1]
K. Batubulan and R. Rismanto, "Pneumonia Identifikasi Pneumonia Pada Citra Rontgen Paru Menggunakan Metode Power-Law Trans ", JIP, vol. 7, no. 2, pp. 73-78, Feb. 2021.
Copyright for articles published in this journal is retained by the authors, with first publication rights granted to the journal. By virtue of their appearance in this open access journal, articles are free to use after initial publication under the International Creative Commons Attribution-NonCommercial 4.0 Creative Commons CC_BY_NC.