Smart Sterilization System pada Ruang Kelas Berbasis UVC
Annisa Zulfa Nur Azza

Universitas Gadjah Mada

Dawam Faizul Amal

Universitas Gadjah Mada

Farrastika Rey Pinestiti

Universitas Gadjah Mada

Ndaru Nuridho Alfian

Universitas Gadjah Mada

Syifaa Safiinatunnajah

Universitas Gadjah Mada

Dwi Joko Suroso

Universitas Gadjah Mada
Abstract
The number of people confirmed positive for Coronavirus Disease 2019 (COVID-19) in Indonesia reached 605,243 people as of December 11, 2020, of which 18,511 people died. COVID-19 is caused by Severe Acute Respiratory Syndrome Coronavirus-2 (SARS-CoV-2) which can spread rapidly through droplets and is viable under certain conditions. On the other hand, the Ministry of Education and Culture of the Republic of Indonesia plans to allow face-to-face lectures starting in January 2021. Of course this requires strict health protocols and facilities that support learning activities without increasing cases of COVID-19 transmission. Therefore, in this paper an innovation is designed in the form of a smart classroom consisting of a sterilization system based on ultraviolet C (UVC) light with a wavelength of 254 nm. Smart classrooms are also equipped with a security system in the form of automatic locks, contactless sensors for opening and closing doors, automatic lighting, and a real-time Internet of Things (IoT) based monitoring system. In this paper, a system simulation is carried out using Tinkercad and the Thingspeak web server. The sterilization process is designed to be carried out for 30 minutes with a UVC dose of 220 J / m2. For a classroom with an area of ​​64.17 m2, a dosage of 14,117.4 J is needed, so it takes 2 Philips UVC TMS030 1xTUV T8 18W HFP which has an irradiation of 0.09 W / m2.
Downloads
Download data is not yet available.
References
Anuradha, R., Bharathi, R., Karthika, K., Kirithika, S., & Venkatasubramanian, S. (2016). Anuradha.R.S, Bharathi.R, Karthika.K, Kirithika.S, and S.Venkatasubramanian; "Optimized Door Locking and Unlocking Using IoT for Physically Challenged Peopl. International Journal of Innovative Research in Computer and Communication Engineering, 4(3).
Casini, B., Tuvo, B., Cristina, M. L., Spagnolo, A. M., Totaro, M., Baggiani, A., & Privitera, G. P. (2019). Evaluation of an Ultraviolet C (UVC) Light-Emitting Device for Disinfection of High Touch Surfaces in Hospital Critical Areas. International Journal of Environmental Research and Public Health, 16(19), 3572. https://doi.org/10.3390/ijerph16193572
Chitnis, D., Katara, G., Hemvani, N., Chitnis, S., & Chitnis, V. (2008). Surface disinfection by exposure to germicidal UV light. Indian Journal of Medical Microbiology, 26(3), 241. https://doi.org/10.4103/0255-0857.42034
Darnell, M. E. R., Subbarao, K., Feinstone, S. M., & Taylor, D. R. (2004). Inactivation of the coronavirus that induces severe acute respiratory syndrome, SARS-CoV. Journal of Virological Methods, 121(1), 85–91. https://doi.org/10.1016/j.jviromet.2004.06.006
Dwi Elisanti, A., & Ardianto, E. (2020). EFEKTIFITAS PAPARAN SINAR UV DAN ALKOHOL 70% TERHADAP TOTAL BAKTERI PADA UANG KERTAS YANG BEREDAR DI MASA PANDEMI COVID-19. Jurnal Riset Kefarmasian Indonesia, 2, 202. https://doi.org/10.33759/jrki.v2i2.88
Fauzan, M.I. (2015). Automation System Design For Stopper Valve Chamfering Process On Bench Lathe SD-32A Machine At PT. Dharma Precision Parts, Bandung: Telkom University.
Gugus Tugas Percepatan Penanganan COVID-19, "Peta Sebaran," 2020. [Online]. Available: https://COVID19.go.id/peta- sebaran. [Diakses 11 Desember 2020].
Hakim, L.A., & Anugraha R.A. (2017), Perancangan Sistem Otomasi Proses Pelubangan Kartu Tekstil Jacquard Pada Mesin Punching di PT. Buana Intan Gemilang. Jurnal Rekayasa Sistem & Industri, Vol. 4, No.1.
Ika. (2020). AC Bisa Tingkatkan Risiko Infeksi COVID-19 ?. Universitas Gadjah Mada.
Isfardiyana, S. H., & Safitri, S. R. (2014). Pentingnya Melindungi Kulit dari Sinar Ultraviolet dan Cara Melindungi Kulit dengan Sunblock Buatan Sendiri. Jurnal Inovasi dan Kewirausahaan, 3(2), 8.
Iswanto & Gandi (2018). Perancangan dan Implementasi Sistem Kendali Lampu Ruangan Berbasis IoT (Internet of Things) Android (Studi Kasus Universitas Nurtanio). Jurnal Teknologi Informasi dan Komunikasi, 9(1).
Juarez-Leon, F. A., Soriano-Sanchez, A. G., Rodriguez-Licea, M. A., & Perez-Pinal, F. J. (2020). Design and Implementation of a Germicidal UVC-LED Lamp. IEEE Access, 8, 196951–196962. https://doi.org/10.1109/ACCESS.2020.3034436
Kemendikbud, "Perkuliahan Dapat Dilakukan Secara Tatap Muka dan dalam Jaringan Tahun 2021," 2020. [Online]. Available: https://www.kemdikbud.go.id/main/blog/2020/12/perkuliahan-dapat-dilakukan-secara-tatap-muka-dan- dalam-jaringan-tahun-2021. [Diakses 11 Desember 2020].
Lee, L. D. (2017). Surface and air: What impact does UV-C at the room level have on airborne and surface bacteria?. Canadian Journal of Infection Control, 32(2), 4.
Muvianto, C. M. O., & Yuniarto, K. (2020). Pemanfaatan UV-C Chamber Sebagai Disinfektan Alat Pelindung Diri Untuk Pencegahan Penyebaran Virus Corona. Abdi Insani, 7(1), 87–92. https://doi.org/10.29303/abdiinsani.v7i1.312
Philips. (2006). Ultraviolet Purification Application Information. Philips.
Philips. (2020). Datasheet Philips UV-C Batten the Power to Protect. Philips.
Prasetio, E., & Hendriyani, Y. (2019). Pengembangan Sistem Informasi dan Aplikasi Pelayanan Di UPT Balai Bahasa UNP Berbasis Android. Jurnal Vokasional Teknik Elektronika dan Informatika, 166-174.
Prastyowati, A. (2020). Mengenal Karakteristik Virus SARS-CoV-2 Penyebab Penyakit COVID-19 Sebagai Dasar Upaya Untuk Pengembangan Obat Antivirus Dan Vaksin. 10.
Raudah, R., Zubaidah, T., & Santoso, I. (2017). Efektivitas Sterilisasi Metode Panas Kering pada Alat Medis Ruang Perawatan Luka Rumah Sakit dr. H. Soemarno Sosroatmodjo Kuala Kapuas. JURNAL KESEHATAN LINGKUNGAN: Jurnal dan Aplikasi Teknik Kesehatan Lingkungan, 14(1), 425. https://doi.org/10.31964/jkl.v14i1.56
Seran, Y. Y. T., Pasangka, B., & Sutaji, H. I. (2018). Karakteristik Paparan Radiasi Sinar Ultraviolet A (UV-A) dan Cahaya Tampak di Kota Kupang. Jurnal Biotropikal Sains, 15(3), 8.
Shereen MA, Khan S, Kazmi A, Bashir N, and Siddique R. (2020): COVID-19 infection: Origin, transmission, and characteristics of human coronaviruses. Journal of Advanced Research, 24, 91-98. doi:10.1016/j.jare.2020.03.0 05.
Spencer, M., Vignari, M., Bryce, E., Johnson, H. B., Fauerbach, L., & Graham, D. (2017). A model for choosing an automated ultraviolet-C disinfection system and building a case for the C-suite: Two case reports. American Journal of Infection Control, 45(3), 288–292. https://doi.org/10.1016/j.ajic.2016.11.016
Song, L., Li, W., He, J., Li, L., Li, T., Gu, D., & Tang, H. (2020). Development of a Pulsed Xenon Ultraviolet Disinfection Device for Real-Time Air Disinfection in Ambulances. Journal of Healthcare Engineering, 2020, 1–5. https://doi.org/10.1155/2020/6053065
Suwantoro, A., & Samsugi, S. (2018). Pemanfaatan Peltier dan Heater sebagai Alat Pengontrol Suhu Air pada Bak Penetasan Telur Ikan Gurame. Conf. Inf. Technol, (pp. 295-299).
Waworundeng, J., Irawan, L.D., & Pangalila, A. (2017). Implementasi Sensor PIR sebagai Pendeteksi Gerakan untuk Sistem Keamanan Rumah menggunakan Platform IoT. Jurnal CogITo Smart, 3(2), 152.
WHO, "Coronavirus disease 2019 (COVID-19) Situation Report," World Health Organization, 2020.
World Health Organization. (2020). Pembersihan dan disinfeksi permukaan lingkungan dalam konteks COVID-19," Panduan Interim
World Health Organization (WHO). (2020). Transmisi SARS-CoV-2: Implikasi Terhadap Kewaspadaan Pencegahan Infeksi. Pernyataan Keilmuan
Worldometer, "World Population," United Nations, [Online]. Available: https://www.worldometers.info/world- population/ [Diakses 11 Desember 2020].
Yulianto, T. B., Taufiq, A. J., & Suyadi, A. (2019). Rancang Bangun Pengaturan Intensitas Sinar UV (Ultraviolet) Dengan Mikrokontroler PIC Untuk Tanaman. Jurnal Riset Rekayasa Elektro, 1(1). https://doi.org/10.30595/jrre.v1i1.4929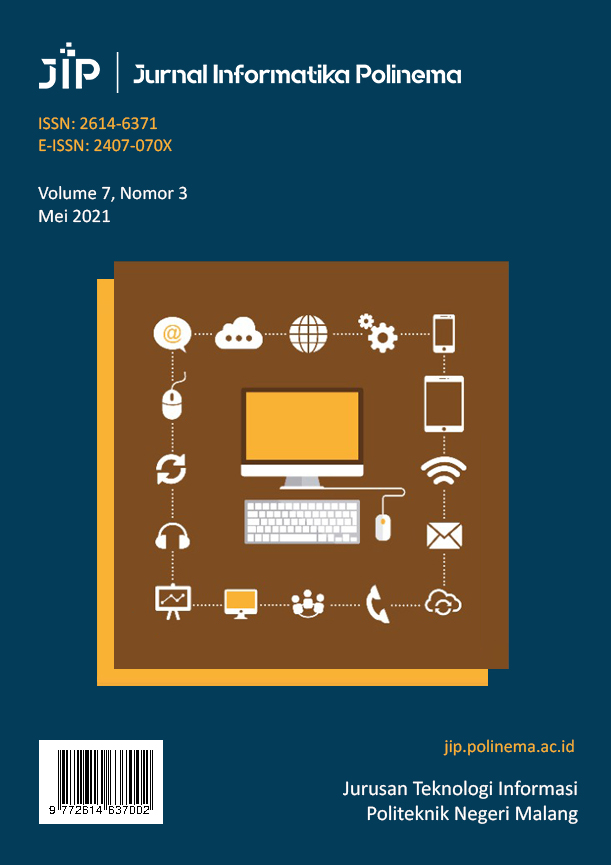 How to Cite
[1]
Annisa Zulfa Nur Azza, Dawam Faizul Amal, Farrastika Rey Pinestiti, Ndaru Nuridho Alfian, Syifaa Safiinatunnajah, and Dwi Joko Suroso, "Smart Sterilization System pada Ruang Kelas Berbasis UVC", JIP, vol. 7, no. 3, pp. 43-52, Jun. 2021.
Copyright (c) 2021 Annisa Zulfa Nur Azza, Dawam Faizul Amal, Farrastika Rey Pinestiti, Ndaru Nuridho Alfian, Syifaa Safiinatunnajah, Dwi Joko Suroso
This work is licensed under a Creative Commons Attribution-NonCommercial 4.0 International License.
Copyright for articles published in this journal is retained by the authors, with first publication rights granted to the journal. By virtue of their appearance in this open access journal, articles are free to use after initial publication under the International Creative Commons Attribution-NonCommercial 4.0 Creative Commons CC_BY_NC.