Ekstraksi Click Stream Data Web E-Commerce Menggunakan Web Usage Mining
Kartina Diah Kusuma Wardani

Politeknik Caltex Riau
Keywords:
e-commerce, web usage mining, click stream data, frequence sequence
Abstract
E-Commerce berkembang pesat dalam world wide web hingga menghasilkan berbagai jenis data yang dapat dianalisa lebih lanjut untuk berbagai keperluan seperti personifikasi web, profiling customer, dan sebagainya. Salah satu jenis data yang dihasilkan e-Commerce adalah click stream data web yang merekam aktivitas visitor web dalam bentuk log data selama berinteraksi pada laman web. Penelitian ini mengekstraksi click stream data web e-commerce untuk mendapatkan pola interaksi konsumen terhadap halaman web selama mengunjungi web e-commerce. Berdasarkan jenis data yang diekstrak maka web usage mining digunakan untuk ekstraksi pola dari click stream data yang berbentuk log data. Teknik mining yang dianalisa terhadap log data e-commerce pada penelitian ini terdiri dari frequent itemset, asociation rules, dan frequence sequence mining. Frequent itemset menghasilkan halaman web yang paling sering diakses oleh visitor. Association rules menghasilkan pola kemungkinan halaman web yang akan diakses visitor jika visitor mengakses halaman-halamn tertentu. Frequence sequence mining mendapatkan pola urutan halaman web yang paling sering diakses oleh visitor web e-commerce saat berinteraksi pada laman web. Pola urutan halaman yang diakses visitor menunjukkan urutan kebiasaan visitor mengunjungi e-commerce. Sedangkan teknik mining yang diimplementasikan untuk menghasilkan pola akses visitor pada penelitian ini adalah Frequence sequence mining. Hasil ekstraksi dari penelitian ini menunjukkan ada enam halaman web yang paling sering diakses oleh konsumen dengan berbagai pola urutan aksesnya.
Downloads
Download data is not yet available.
References
Abdurrahman, T Riyanto, B., Mandala, R., & Govindaraju, R. (2008). PEMANFAATAN ALGORITMA ANT COLONY UNTUK WEB USAGE MINING. Konferensi Dan Temu Nasional Teknologi Informasi Dan Komunikasi Untuk Indonesia.
Cooley, R. (2000). Web Usage Mining: Discovery and Application of Interesting Patterns from Web Data.
Cooley, R., Mobasher, B., & Srivastava, J. (1997). Web Mining: Information and Pattern Discovery on the World Wide Web.
Diah, K., & Yunanto, W. (2017). Heuristics miner for e-commerce visitor access pattern representation. Communications in Science and Technology, 2(1), 1–5. https://doi.org/10.21924/cst.2.1.2017.21
Srivastava, J., Cooley, R., Deshpande, M., & Tan, P. (2000). Web usage mining: discovery and applications of usage patterns from Web data. ACM SIGKDD Explorations Newsletter, 12–23.
Srivastava, J., & Desikan, Prasanna, Kumar, V. (n.d.). Web Mining - Concepts, Applications, and Research Directions.
Tatsiopoulos, I. P., Panayiotou, N. A., & Ponis, S. T. (2002). A modelling and evaluation methodology for E-Commerce enabled BPR. Computers in Industry, 49(1), 107–121. https://doi.org/10.1016/S0166-3615(02)00062-3
Wen, H. J., Chen, H. G., & Hwang, H. G. (2001). E-commerce Web site design: Strategies and models. Information Management and Computer Security, 9(1), 5–12. https://doi.org/10.1108/09685220110366713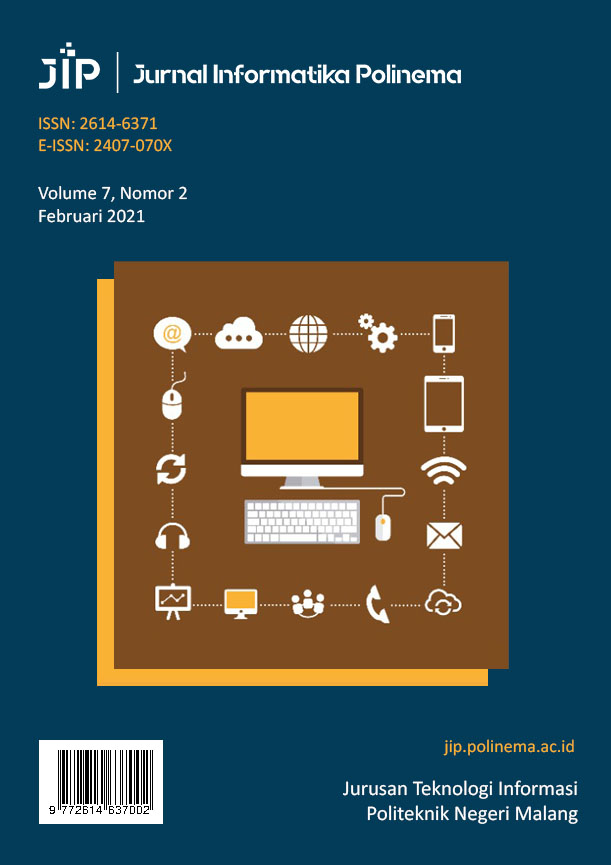 How to Cite
[1]
Kartina Diah Kusuma Wardani, "Ekstraksi Click Stream Data Web E-Commerce Menggunakan Web Usage Mining", JIP, vol. 7, no. 2, pp. 65-72, Feb. 2021.
Copyright for articles published in this journal is retained by the authors, with first publication rights granted to the journal. By virtue of their appearance in this open access journal, articles are free to use after initial publication under the International Creative Commons Attribution-NonCommercial 4.0 Creative Commons CC_BY_NC.