APPLICATION OF FP-GROWTH ALGORITHM TO DETERMINE VEGETABLE TRADER'S GOODS LABELING
Wahyu Alfafisabil

Universitas Singaperbangsa Karawang

Budi Arif Dermawan

Tesa Nur Padilah
Keywords:
Association Rules, FP-Growth, Data Mining
Abstract
Vegetables are a source of vitamins and protein. Every housewife needs vegetables for cooking in everyday life. Vegetables are found in the market so that it will be difficult for housewives whose homes are far from the market. Mobile vegetable traders are traders who sell various kinds of vegetables that are brought to homes to meet the needs of housewives. Mobile vegetable traders aim to make a profit, so maximizing the level of sales requires a sales strategy. Association rules are methods for finding relationships between items in a dataset. Data mining can be called one step of the KDD process. FP-Growth is an algorithm for finding the data sets that most often appear. This study analyzes transaction data to predict the placement of goods at a vegetable merchant with the aim of maximizing the level of sales using the FP-Growth algorithm and the python programming language. In the process of data mining using the FP-Growth algorithm the researcher explains the steps of FP-Growth with manual calculations. Evaluation of researchers matching the results of manual calculations with the program. After the calculation is correct, the researcher uses transaction tota data to find out the rules with a minimum support requirement of 0.01 or 1% and a minimum confidence of 0.9 or 90%. In the results there are 44 rules that meet the requirements.
Downloads
Download data is not yet available.
References
Sapari, M. (2016): Analisis Pendapatan Pedagang Sayur Keliling Di Desa Purwodadi Kecamatan Kuala Pesisir Kabupaten Nagan Raya. (Skripsi). Universitas Teuku Umar, Aceh Barat.
Khair, H. (2016): Dampat Atribut Toko Terhadap Keputusan Pembelian Pada Indomaret Dept Store di Medan. Jurnal Ilmiah dan Bisnis, Vol. 2(1), pp. 78-95.
Parhusip, F. (2019): Pemanfaatan data mining penempatan buku perpustakaan menggunakan metode association rule (study kasus: sma negeri 1 sidamanik). Jurnal Manajemen Informatika & Komputerisasi Akuntansi, Vol. 3(1), pp. 61-65.
Afdal, M., & Rosadi, M. (2019): Penerapan association rule mining untuk analisis penempatan tata letak buku di perpustakaan menggunakan algoritma apriori. Jurnal Ilmiah Rekayasa dan Manajemen Sistem Informasi, Vol. 5(1), pp. 99-108.
Sikumbang, E. D. (2018): Penerapan data mining penjualan sepatu menggunakan metode algoritma apriori. Jurnal Teknik Komputer, Vol. 4(1), pp. 156-161.
Junaidi, A. (2019): Implementasi algoritma apriori dan fp-growth untuk menentukan persediaan barang. Jurnal SISFOKOM, Vol. 8(1), pp. 61-67.
Sholikin. (2019): Algoritma fp-growth dalam teknik market basket analysis sparepart komputer pada jasa servis komputer (studi kasus: cv. Karya computer center). Jurnal Pelita Informatika, Vol. 8(4), pp. 597-602.
Bunda, Y. P. (2020). Algoritma fp-growth untuk menganalisa pola pembelian oleh-oleh (studi kasus dipusat oleh-oleh ummi aufa hakim). Riau Journal of Computer Science, Vol. 6(1), pp. 34-44.
Saodah, D. S., & Malia, R. (2017). Faktor-faktor yang mempengaruhi konsumen dalam pembelian sayuran di pasar tradisional (studi kasus pasar muka cianjur). Journal Agroscience, Vol. 7(1), pp. 178-193.
Tamaela, J., Sediyono, E., & Setiawan, A. (2018). Implementasi metode association rule untuk menganalisis data twitter tentang badan penyelenggara jaminan sosial dengan algoritma frequent pattern-growth. Jurnal Sistem Informasi Bisnis, Vol. 1, pp. 25-33.
Fajrin, A. A., & Maulana, A. (2018). Penerapan data mining untuk analisis pola pembelian konsumen dengan algoritma fp-growth pada data transaksi penjualan spare part motor. Jurnal Ilmu Komputer, 5 (1), 27-36.
Hanum, Z., & Hidayat, S. (2017). Factor-faktor yang mempengaruhi perilaku konsumen dalam keputusan pembelian sepatu merek nike di kota medan. Jurnal Bisnis Administrasi, 6 (1), 37-43.
Lelawati, P. S. (2015). Eksistensi pedagang kecil di kecamatan rumbai pesisir kota pekanbaru. Jurnal Jom Fisip, 2 (2), 1-12.
Merlina, N., & Rahmawati, F. (2018). Metode data mining terhadap data penjualan sparepart mesin fotocopy menggunakan algoritma apriori. Jurnal Penelitian Ilmu Komputer System Embedded & Logic, 6 (1), 9-20.
Nurdin, & Astika, D. (2015). Penerapan data mining untuk menganalisis penjualan barang dengan menggunakan metode apriori pada supermarket sejahtera. Jurnal Techsi, 6 (1), 134-155.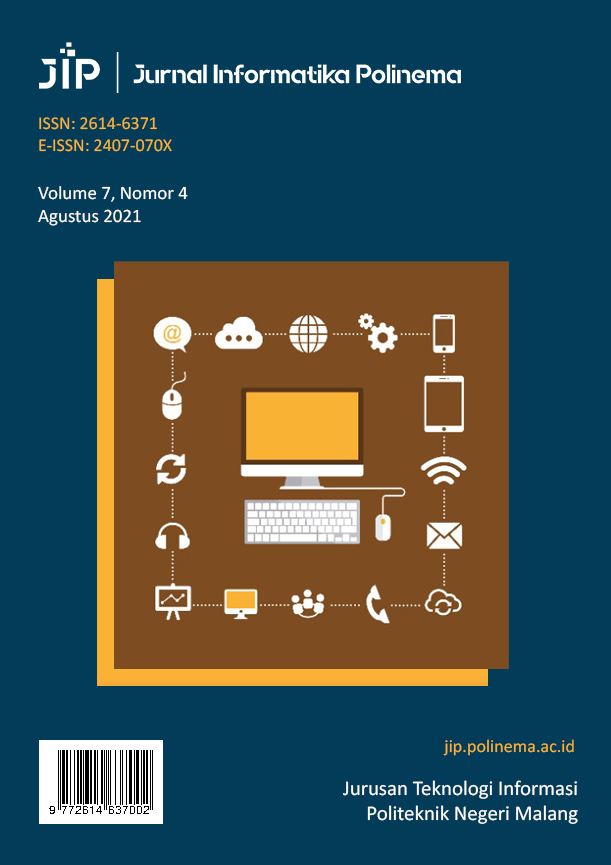 How to Cite
[1]
W. Alfafisabil, B. Arif Dermawan, and T. Nur Padilah, "APPLICATION OF FP-GROWTH ALGORITHM TO DETERMINE VEGETABLE TRADER'S GOODS LABELING", JIP, vol. 7, no. 4, pp. 43-48, Aug. 2021.
Copyright (c) 2021 Wahyu Alfafisabil, Budi Arif Dermawan, Tesa Nur Padilah
This work is licensed under a Creative Commons Attribution-NonCommercial 4.0 International License.
Copyright for articles published in this journal is retained by the authors, with first publication rights granted to the journal. By virtue of their appearance in this open access journal, articles are free to use after initial publication under the International Creative Commons Attribution-NonCommercial 4.0 Creative Commons CC_BY_NC.