DETEKSI KERUSAKAN DAN KELAYAKAN BAN MOBIL BERDASARKAN EKSTRAKSI TEKSTUR MENGGUNAKAN GRAY LEVEL COOCCURRENCE MATRIX DENGAN METODE JARINGAN SYARAF TIRUAN
Nugroho Febriyanto

Politeknik Negeri Malang

Cahya Rahmad

Politeknik Negeri Malang

Candra Bella Vista

Politeknik Negeri Malang
Abstract
One of the causes of accidents in Indonesia is a factor in the condition of vehicles that are not good, one of them is the condition of the damaged tire. Types of damage to car tires consist of four types, namely Irregular Wear, Spot Wear, Tread Cut Penetration, and Cut Burts. Another factor is the lack of awareness or neglect of car users to always check the condition of the vehicle, especially the condition of the tire before to use. To resolve this, it's proposed to create a damage detection and the level of eligibility system for car tires based on Digital Image Processing. In this thesis using the image of car tires to detect the type of damage on the car tire based on the texture using Gray Level Cooccurrence Matrix. Backpropagation method is used to classify the type of damage on the car tires from the extraxtion texture value. At 100 times to test, the result showed the accuracy of the backpropagation method was 80%. Factors that influence the level of accuracy are the image capture process, the condition of the car tires to be taken image, and the parameter values used for classification, and changes in parameter values thar are not significant. In addition, car users can send of the condition of their tires throught the android application made in the thesis to determine the type of damage and the level of eligibility tires. So that car users can make a decision to change the tires or not.
Downloads
Download data is not yet available.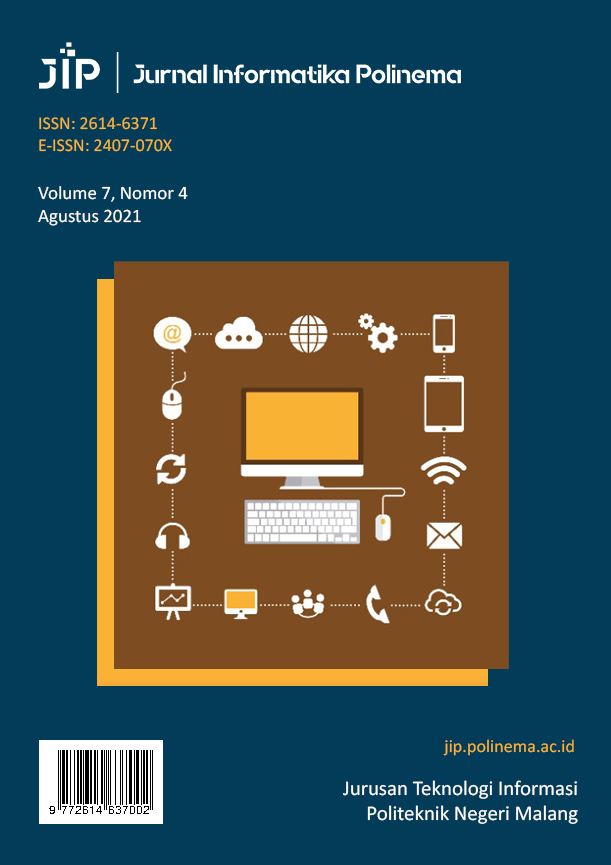 How to Cite
[1]
N. Febriyanto, C. Rahmad, and C. Bella Vista, "DETEKSI KERUSAKAN DAN KELAYAKAN BAN MOBIL BERDASARKAN EKSTRAKSI TEKSTUR MENGGUNAKAN GRAY LEVEL COOCCURRENCE MATRIX DENGAN METODE JARINGAN SYARAF TIRUAN", JIP, vol. 7, no. 4, pp. 27-32, Aug. 2021.
Copyright (c) 2021 Nugroho Febriyanto, Cahya Rahmad, Candra Bella Vista
This work is licensed under a Creative Commons Attribution-NonCommercial 4.0 International License.
Copyright for articles published in this journal is retained by the authors, with first publication rights granted to the journal. By virtue of their appearance in this open access journal, articles are free to use after initial publication under the International Creative Commons Attribution-NonCommercial 4.0 Creative Commons CC_BY_NC.