SISTEM PENDUKUNG KEPUTUSAN PEMILIHAN RUMAH SAKIT DENGAN PELAYANAN RAWAT INAP TERBAIK
Mustika Mentari

Politeknik Negeri Malang

Chintya Puspa Dewi

Politeknik Negeri Malang
Abstract
Rumah sakit adalah tempat pelayanan kesehatan yang pasti sangat diperlukan oleh masyarakat.Pelayanan tersebut dilihat dari efisiensi, sarana dan prasarana yang memadai, dan faktor lainnya. Efisiensi pelayanan rawat inap juga termasuk hal yang penting bagi pasien, khususnya yang harus dirawat di rumah sakit. Pihak rumah sakit melakukan sensus harian untuk meninjau dan meningkatkan kualitas pelayanan rawat inap. Kriteria pelayanan rawat inap adalah BOR (Bed Occupancy Ratio), BTO (Bed Turn Over), TOI (Turn Over Interval), dan AVLOS (Average Length of Stay). Untuk kemudahan dalam memilih, maka dibutuhkan sistem pendukung keputusan sebagai alat. Rumah sakit yang akan dijadikan pilihan oleh peneliti adalah rumah sakit yang ada di wilayah Kota Batu. Metode yang digunakan adalah gabungan SAW (Simple Additive Weighting) dan TOPSIS (Technique For Order Preference By Similiarity To Ideal Solution). Metode ini dipilih karena menggunakan persamaan matematis yang lebih sederhana untuk mendapatkan solusi terbaik. Hasil pengujian dapat digunakan untuk membantu masyarakat dalam pemilihan rumah sakit.
Downloads
Download data is not yet available.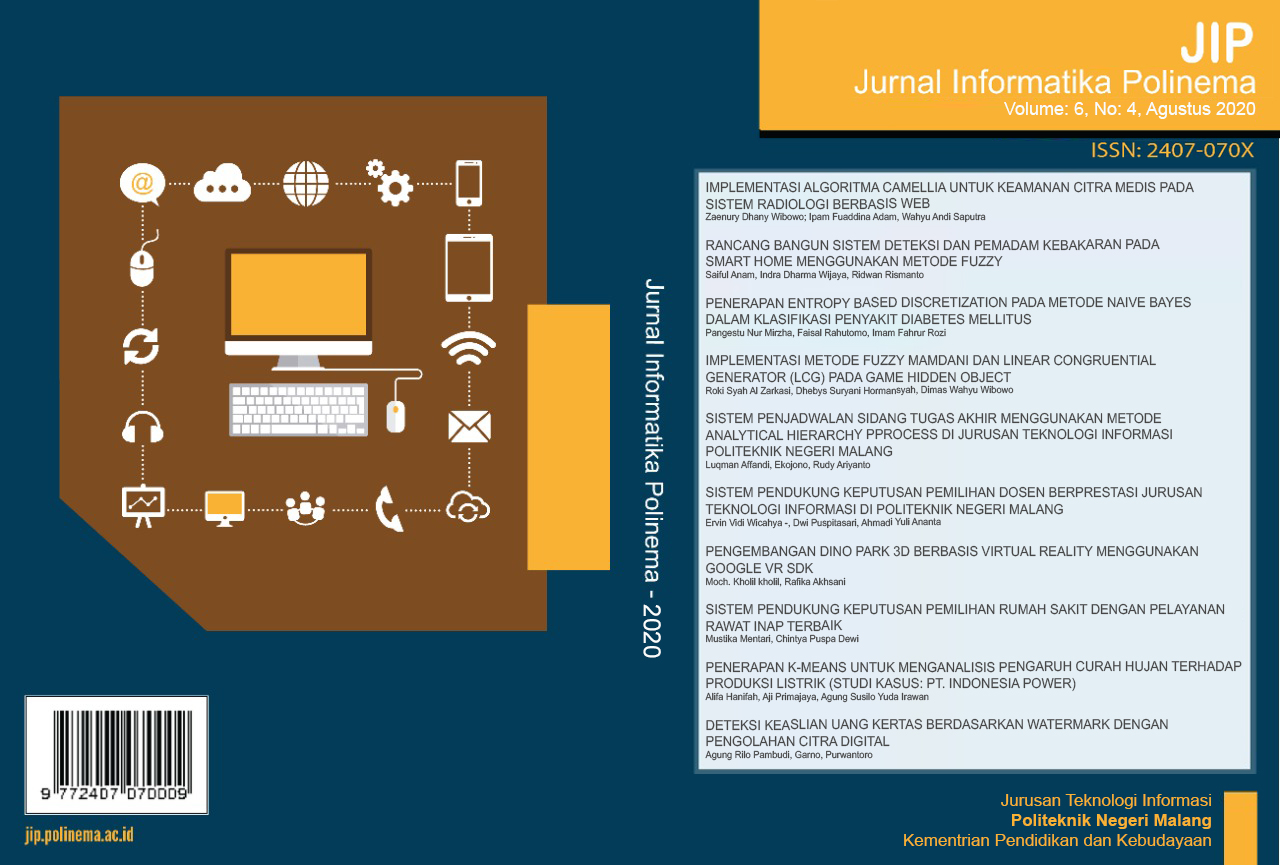 How to Cite
[1]
Mustika Mentari and Chintya Puspa Dewi, "SISTEM PENDUKUNG KEPUTUSAN PEMILIHAN RUMAH SAKIT DENGAN PELAYANAN RAWAT INAP TERBAIK", JIP, vol. 6, no. 4, pp. 55-62, Aug. 2020.
Copyright for articles published in this journal is retained by the authors, with first publication rights granted to the journal. By virtue of their appearance in this open access journal, articles are free to use after initial publication under the International Creative Commons Attribution-NonCommercial 4.0 Creative Commons CC_BY_NC.