SURVEI TENTANG ALGORITMA KRIPTOGRAFI ASIMETRIS
Triyas Hevianto Saputro

Program Studi Teknologi Informasi Program Magister, Universitas Teknologi Yogyakarta

Nur Hidayati Hidayati

MTI Universitas Teknologi Yogyakarta

Erik Iman H. Ujianto

Program Studi Teknologi Informasi Program Magister, Universitas Teknologi Yogyakarta
Abstract
Keamanan merupakan salah satu faktor penting dalam penyimpanan dan pengiriman data atau pesan. Salah satu cara untuk mengamankan dokumen adalah dengan menggunakan algoritma kriptografi. Kriptografi berdasarkan jenis kuncinya dibedakan menjadi dua yaitu kriptografi simetris dan asimetris. Algoritma enkripsi asimetris termasuk Rivest–Shamir–Adleman (RSA), Diffie-Hellman, Digital Secure Algorithm (DSA), XTR, Elliptic Curve Cryptography (ECC), dan Elgamal Encryption System (ESS). Dalam makalah ini akan melakukan survei paper terkait algoritma-algoritma enkripsi asimetris. Implementasi kriptografi asimetris dapat dikembangkan menggunakan algoritma-algoritma tersebut.
Kata kunci : cryptography, encryption, decryption, public key
Downloads
Download data is not yet available.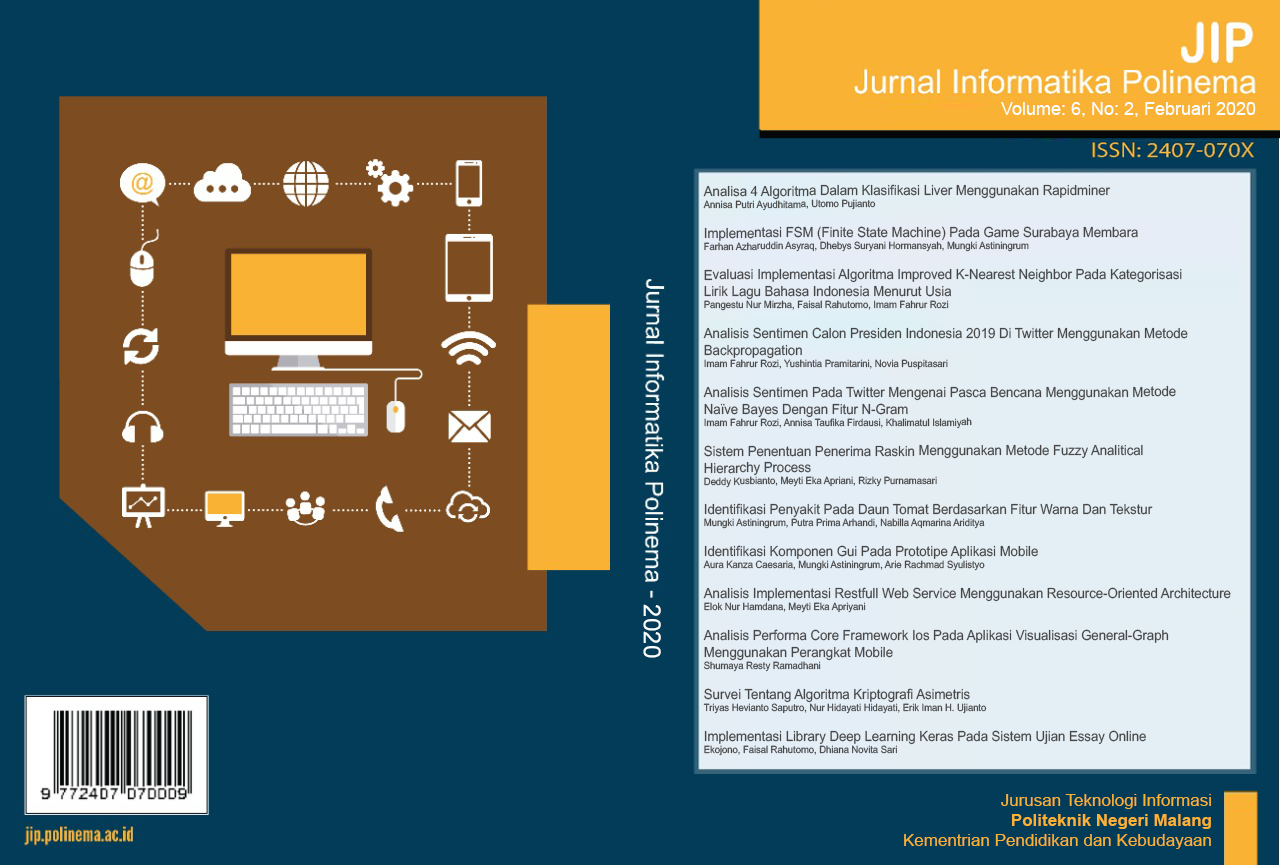 How to Cite
[1]
T. H. Saputro, N. H. Hidayati, and E. I. H. Ujianto, "SURVEI TENTANG ALGORITMA KRIPTOGRAFI ASIMETRIS", JIP, vol. 6, no. 2, pp. 67-72, Mar. 2020.
Copyright for articles published in this journal is retained by the authors, with first publication rights granted to the journal. By virtue of their appearance in this open access journal, articles are free to use after initial publication under the International Creative Commons Attribution-NonCommercial 4.0 Creative Commons CC_BY_NC.