PEMODELAN PREDIKSI TINGKAT KELULUSAN MAHASISWA DENGAN PENDEKATAN ALGORITMA NAÏVE BAYES
Supangat

Universitas 17 Agustus 1945 Surabaya

M. Rizky Sulistyawan

Universitas 17 Agustus 1945 Surabaya
Abstract
One important factor in assessing the accreditation of an institution or higher education institution is graduation. It is important to know the graduation predictions of Informatics Engineering Study Program students at the University of August 17, 1945 in order to identify students who did not graduate on time from the start. Prediction of student graduation can be done using data mining, especially the classification method. In this study, the Naive Bayes Algorithm is used as a classification method. The training data consisted of 120 alumni of the Informatics Engineering Study Program class of 2017, while the test data consisted of 30 students of the 2018 class. The attribute data used for this research were Social Sciences Semester 1-4, Credits, GPA, and student graduation status. This research is expected to provide information about predictions of student graduation on time and provide input for tertiary institutions for future improvement. The results of this study include the results of applying the Naïve Bayes algorithm to this graduation prediction system that can be used to estimate whether students will graduate on time or not. Students can easily self-introspect by accessing this website page online without having to go to the building. academic bureau, the results of this study have an accuracy rate in predicting student graduation that is 77%, 77% precision level, and 78% recall time.
Downloads
Download data is not yet available.
References
Andrian, D. (2021). Penerapan Metode Waterfall Dalam Perancangan Sistem Informasi Pengawasan Proyek Berbasis Web. Jurnal Informatika Dan Rekayasa Perangkat Lunak (JATIKA), 2(1), 85–93. http://jim.teknokrat.ac.id/index.php/informatika
Armansyah, A., & Ramli, R. K. (2022). Model Prediksi Kelulusan Mahasiswa Tepat Waktu dengan Metode Naïve Bayes. Edumatic: Jurnal Pendidikan Informatika, 6(1), 1–10. https://doi.org/10.29408/edumatic.v6i1.4789
Audilla, D., Fauziah, F., & Hidayatullah, D. (2019). Sistem Pendukung Keputusan Penilaian Efektivitas Sistem Informasi Menggunakan Metode Naïve Bayes Classifier. STRING (Satuan Tulisan Riset Dan Inovasi Teknologi), 4(2), 150. https://doi.org/10.30998/string.v4i2.3808
Etriyanti, E., Syamsuar, D., & Kunang, N. (2020). Implementasi Data Mining Menggunakan Algoritme Naive Bayes Classifier dan C4.5 untuk Memprediksi Kelulusan Mahasiswa. Telematika, 13(1), 56–67. https://doi.org/10.35671/telematika.v13i1.881
Hermanto, A. (2016). Implementasi Text Mining Menggunakan Naive Bayes Untuk Penentuan Kategori Tugas Akhir Mahasiswa Berdasarkan Abstraksinya. Konvergensi, 11(01). https://doi.org/10.30996/konv.v12i2.1310
Khasanah, N., Salim, A., Afni, N., Komarudin, R., & Maulana, Y. I. (2022). Prediksi Kelulusan Mahasiswa Dengan Metode Naive Bayes. Technologia : Jurnal Ilmiah, 13(3), 207. https://doi.org/10.31602/tji.v13i3.7312
Khoirunnisa, K., Susanti, L., Rokhmah, I. T., & Stianingsih, L. (2021). Prediksi Siswa Smk Al-Hidayah Yang Masuk Perguruan Tinggi Dengan Metode Klasifikasi. Jurnal Informatika, 8(1), 26–33. https://doi.org/10.31294/ji.v8i1.9163
Ramsari, N., & Firmansyah, A. R. (2022). Sistem Pendukung Keputusan Untuk Meningkatkan Mutu Kinerja Program Studi Melalui Prediksi Kelulusan Mahasiswa Menggunakan Algoritma Naïve Bayes Berbasis Framework Laravel (Studi Kasus : Fakultas Ilmu Komputer Dan Informatika Universitas Nurtanio Bandung). Jurnal Informatika, Teknologi Dan Sains FORMATEKS, 1(1), 6–18.
Suwandi, A. (2020). Prediksi Harga Emas Menggunakan Metode Single Moving Average. JiTEKH, 8(1), 32–36. https://doi.org/10.35447/jitekh.v8i1.194
Yuniarti, W. D., Faiz, A. N., & Setiawan, B. (2020). Identifikasi Potensi Keberhasilan Studi Menggunakan Naïve Bayes Classifier. Walisongo Journal of Information Technology, 2(1), 1. https://doi.org/10.21580/wjit.2020.2.1.5204
Yustira, N., Witarsyah, D., & Sutoyo, E. (n.d.). Implementasi Algoritma Naïve Bayes Classification Untuk Klasifikasi Kelulusan Mahasiswa Tepat Waktu ( Studi Kasus : Program Studi Sistem Informasi Universitas Telkom ).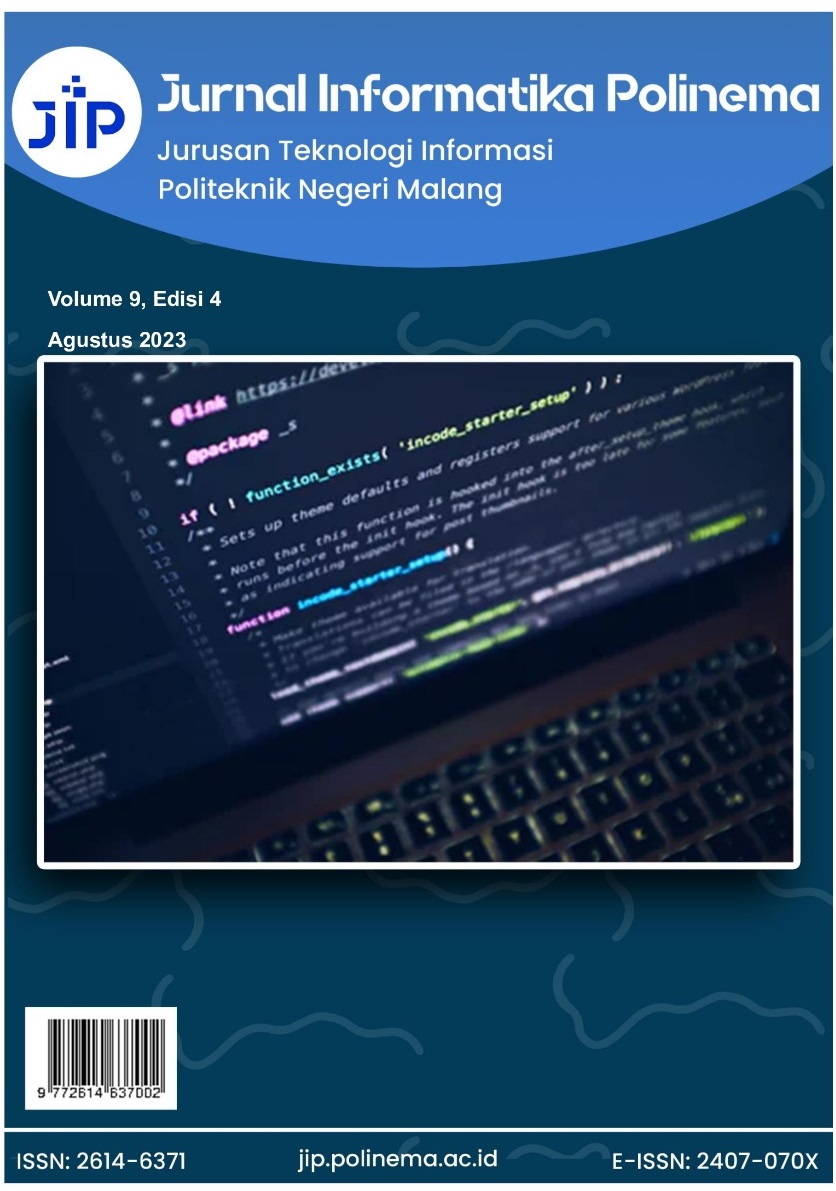 How to Cite
Supangat, & Sulistyawan, M. R. (2023). PEMODELAN PREDIKSI TINGKAT KELULUSAN MAHASISWA DENGAN PENDEKATAN ALGORITMA NAÏVE BAYES. Jurnal Informatika Polinema, 9(4), 405-414. https://doi.org/10.33795/jip.v9i4.1367
Copyright (c) 2023 Supangat, M. Rizky Sulistyawan
This work is licensed under a Creative Commons Attribution-NonCommercial 4.0 International License.
Copyright for articles published in this journal is retained by the authors, with first publication rights granted to the journal. By virtue of their appearance in this open access journal, articles are free to use after initial publication under the International Creative Commons Attribution-NonCommercial 4.0 Creative Commons CC_BY_NC.