SISTEM PREDIKSI PENJUALAN MENGGUNAKAN METODE WEIGHTED MOVING AVERAGE DAN ECONOMIC ORDER
Davila Erdianita

Universitas Pembangunan Nasional "Veteran" Jawa Timur

Retno Mumpuni

Department of Informatics at the National Development University "Veteran" East Java

Firza Prima Aditiawan

Department of Informatics at the National Development University "Veteran" East Java
Keywords:
prediction system, weighted moving average, economic order quantity, MAPE, MAD, MSE
Abstract
Toko Mariah is a shop that sells a wide variety of daily necessities. At Mariah's shop, they still use estimates to determine the amount of inventory needed for the following month, this causes problems, namely a lack of inventory and accumulation of goods. In addition, the problems that arose at Mariah's Store were customer requests that could not be fulfilled because the goods needed were not yet available, which resulted in a decrease in profits. To solve the problems found, Mariah's shop requires a sales prediction system and inventory. This study uses the Weighted Moving Average method which is used to predict sales in the coming period and the Economic Order Quantity which is used to determine the optimal ordering of goods in order to minimize costs and prevent stockpiling and shortage of goods. Testing the accuracy of the prediction results in this study using MAPE, MAD and MSE. The average value of the prediction accuracy test results using MAD, MSE and MAPE for 5 data on the prediction of sales of goods is 5.16, 39.97 and 13.45%.
Downloads
Download data is not yet available.
References
Fitri, A., Yesputra, R., & Nasution, A. (2022). Pendekatan Metode Weighted Moving Average Untuk Meramal Jumlah Penjualan Keripik. Indonesian Journal of Computer Science, 11(2), 663–671.
Ginantra, N. L. W. S. R., & Anandita, I. B. G. (2019). Penerapan Metode Single Exponential Smoothing Dalam Peramalan Penjualan Barang. Jurnal Sains Komputer & Informatika (J-SAKTI), 3(2), 433–441.
Guntara, D., Nasution, M. I. P., & Nasution, A. B. (2020). Implementasi Metode Economic Order Quantity pada Aplikasi Pengendalian Bahan Produksi Sandal Mirado. Jurnal Teknik Informatika, 13(1), 31–42.
Hasibuan, J. M. S., Agus, R. T. A., & Rohminatin. (2022). Forecasting Of Yamaha Motorcycle Sales Using The Weighted Moving Average (Wma) Web-Based. Jurnal Teknik Informatika (JUTIF), 3(2), 405–420.
Hussain, W., Hussain, F. K., Saberi, M., Hussain, O. K., & Chang, E. (2018). Comparing time series with machine learning-based prediction approaches for violation management in cloud SLAs. Future Generation Computer Systems, 89, 464–477. https://doi.org/10.1016/j.future.2018.06.041
Martantoh, E., & Agustina, E. (2021). Sistem Pendukung Keputusan Prediksi Jumlah Stok Barang Menggunakan Metode Weighted Moving Average. Jurnal Informatika SIMANTIK, 6(2), 18–23.
Nasution A, & Prasetyawan, Y. (2008). Perencanaan dan Pengendalian Produksi. Graha Ilmu.
Nurhayati, S., & Syafiq, A. (2022). Sistem Prediksi Jumlah Produksi Baju Menggunakan Weighted Moving Average. Jurnal Manajemen Informatika (JAMIKA), 12(1), 14–24. https://doi.org/10.34010/jamika.v12i1.6680
Pratama, M. R., & Supriyanto, A. (2022). Sistem Prediksi Pemesanan Dan Pengendalian Stok Barang Menggunakan Metode Eoq Dan Rop Pada Apotek Setia Kawan Pati. JIRE (Jurnal Informatika & Rekayasa Elektronika), 5(1), 92–102.
Sari, D. J., Saputra, H., & Nasution, A. (2022). The Use Of The Wma Method Predicts The Inventory Of Tofu Raw Materials Case Study Industry Tahu Iyus. Jurnal Teknik Informatika (JUTIF), 3(2), 429–436.
Suhendra, C. A., Asfi, M., Lestari, W. J., & Syafrinal, I. (2021). Sistem Peramalan Persediaan Sparepart Menggunakan Metode Weight Moving Average Dan Reorder Point. MATRIK : Jurnal Manajemen, Teknik Informatika Dan Rekayasa Komputer, 20(2), 343–354. https://doi.org/10.30812/matrik.v20i2.1052
Syafwan, H., Siagian, F., Putri, P., & Handayani, M. (2021). Forecasting Jumlah Pengangguran Di Kabupaten Asahan Menggunakan Metode Weighted Moving Average. Jurnal Teknik Informatika Kaputama (JTIK), 5(2), 224–229.
Tamba, M. (2019). Sistem Pendukung Keputusan Prediksi Stok Barang Menggunakan Metode Moving Average Berbasis Client Server Pada Pt. Union. Jurnal TIMES, 8(1), 1–18.
Wanti, L. P., Maharrani, R. H., Adi Prasetya, N. W., Tripustikasari, E., & Ikhtiagung, G. N. (2020). Optimation economic order quantity method for a support system reorder point stock. International Journal of Electrical and Computer Engineering, 10(5), 4992–5000. https://doi.org/10.11591/ijece.v10i5.pp4992-5000
Yuliani, R., Handayani, T., & Desyanti. (2022). Sistem Forecasting Untuk Pengadaan Material Biji Plastik Menggunakan Metode Weighted Moving Average (Studi Kasus : Pt.Tri Persada Mulia). JUTEKINF, 10(1), 25–31.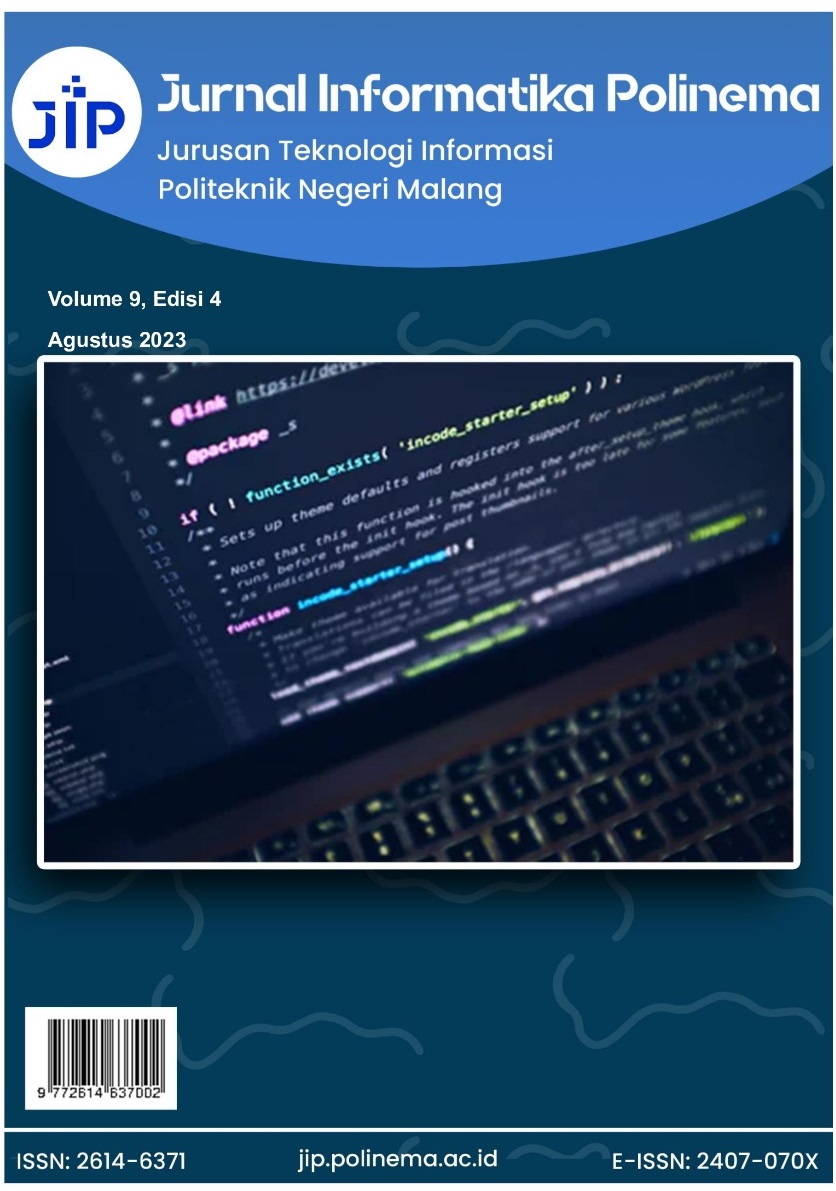 How to Cite
Erdianita, D., Mumpuni, R., & Prima Aditiawan, F. (2023). SISTEM PREDIKSI PENJUALAN MENGGUNAKAN METODE WEIGHTED MOVING AVERAGE DAN ECONOMIC ORDER . Jurnal Informatika Polinema, 9(4), 363-372. https://doi.org/10.33795/jip.v9i4.1311
Copyright (c) 2023 Davila Erdianita, Retno Mumpuni, Firza Prima Aditiawan
This work is licensed under a Creative Commons Attribution-NonCommercial 4.0 International License.
Copyright for articles published in this journal is retained by the authors, with first publication rights granted to the journal. By virtue of their appearance in this open access journal, articles are free to use after initial publication under the International Creative Commons Attribution-NonCommercial 4.0 Creative Commons CC_BY_NC.