PERANCANGAN LEARNING MANAGEMENT SYSTEM (LMS) DI MTS SUNAN KALIJOGO NGADRI
Toni Hardian

Universitas Islam Balitar

Sri Lestanti

Sabitul Kirom
Keywords:
Perancangan, LMS, Perangkingan, Waterfall, Laravel
Abstract
Pandemi Covid-19 berdampak besar bagi pendidikan sehingga proses pembelajaran terkendala dan dilakukan secara daring. Dampak tersebut juga dirasakan oleh guru dan siswa di MTs Sunan Kalijogo Ngadri. Oleh karna itu, guru kesulitan melakukan pembelajaran dan siswa bosan dengan aplikasi E-Learning yang disediakan oleh Kemenag. Dengan adanya permasalahan tersebut, perlu dibuatkan aplikasi Learning Management System (LMS) yang dapat dengan mudah digunakan oleh para guru dan dapat meningkatkan motivasi para siswa dengan menggunakan metode R&D yang didukung oleh metode pengembangan software menggunakan model waterfall. Model waterfall terdiri dari 5 tahapan yaitu Analysis, Design, Development, Testing, dan Maintenance. Setelah dilakukan pengujian menggunakan pengujian black box tidak ada kendala pada aplikasi, dan tingkat kelayakan aplikasi yang diperoleh dari hasil persentase kuesioner para guru memiliki nilai persentase rata-rata sebesar 95,3%, siswa 87,8% dan pengujian ahli 84%. Dari hasil pengujian tersebut, aplikasi ini masuk kategori "Layak". Aplikasi ini sangat membantu para guru dalam proses pembelajaran dengan tampilan yang mudah dijalankan dan memiliki fitur perangkingan kelas yang dapat dilihat oleh seluruh siswa di kelas, dengan adanya sistem perangkingan dapat meningkatkan daya kompetitif para siswa. Aplikasi ini sudah memenuhi aspek kelayakan berdasarkan pengujian aplikasi menggunakan black box, validasi guru, siswa dan ahli.
Downloads
Download data is not yet available.
References
Alfiyandri, A., & Edidas, E. (2020), Andry, J., & Stefanus, M. (2020), Fransisca, M., & Yunus, Y. (2019), Hamid, R., Sentryo, I., & Hasan, S. (2020), Hartatik, H., Cahyaningsih, I. J., Hartono, R., & Bawono, S. A. T. (2017), Mashuri, Chamdan dkk. (2022), Pakpahan, Andrew Fernando. (2020), Pradiatiningtyas, D. (2018), Pranatawijaya, V. H., Widiatry, W., Priskila, R., & Putra, P. B. A. A. (2019), Puspita, A., Fahmi, M., & Yuningsih, Y. (2019), Ridlo, Ilham Akhsanu. (2017), Rozi, Zaenal A. dan SmitDev, (2015), Sihotang, H. T. (2017), Supratman, E., & Purwaningtias, F. (2018), Sutabri, Tata. (2012), Yauma, A., Fitri, I., & Ningsih, S. (2021).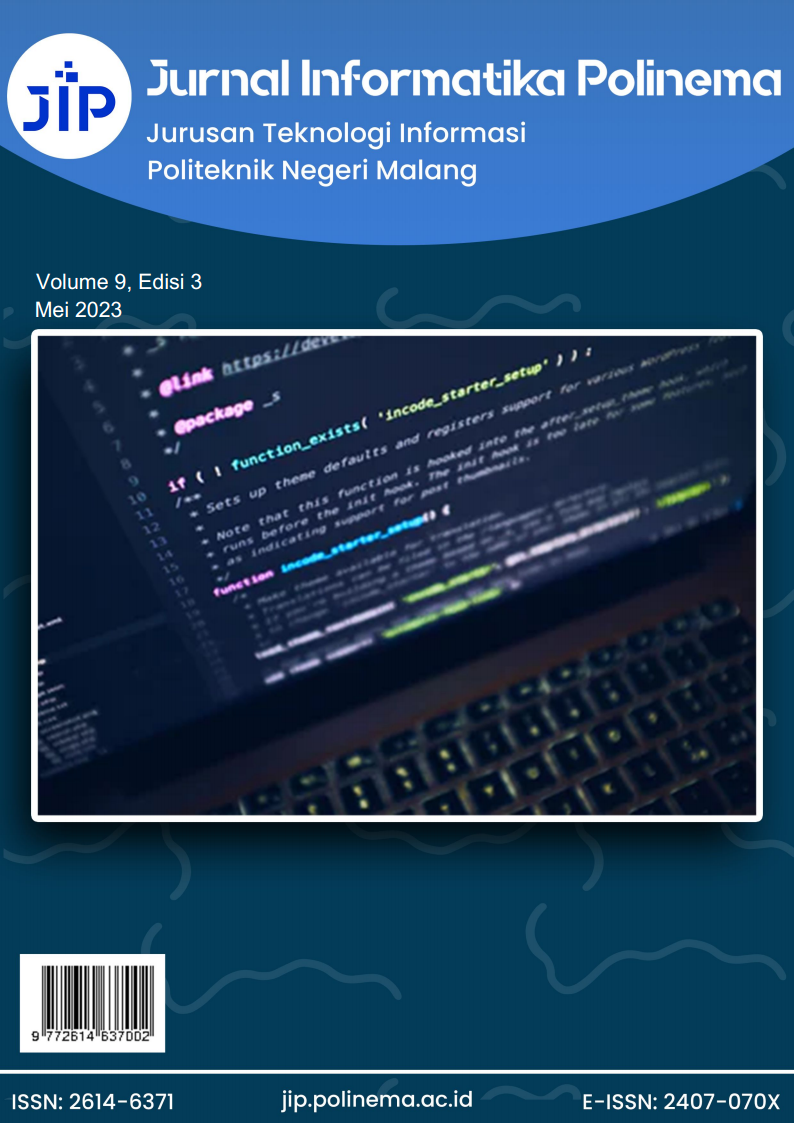 How to Cite
[1]
T. Hardian, S. Lestanti, and S. Kirom, "PERANCANGAN LEARNING MANAGEMENT SYSTEM (LMS) DI MTS SUNAN KALIJOGO NGADRI", JIP, vol. 9, no. 3, pp. 315-324, May 2023.
Copyright (c) 2023 Toni Hardian, Sri Lestanti, Sabitul Kirom
This work is licensed under a Creative Commons Attribution-NonCommercial 4.0 International License.
Copyright for articles published in this journal is retained by the authors, with first publication rights granted to the journal. By virtue of their appearance in this open access journal, articles are free to use after initial publication under the International Creative Commons Attribution-NonCommercial 4.0 Creative Commons CC_BY_NC.